Airbrush at your event:
To airbrush items at your special event the cost is $150 /hr (per artist) with a 3 hour minimum (This covers Los Angeles, Riverside and Orange Counties, surrounding counties will be assessed an additional travel fee). The artist can paint approx. 15-18 items per hour.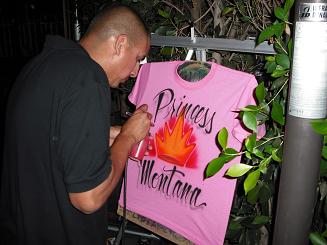 This does not include the product that is being painted on. T-shirts, Trucker Hats, Tank Tops, & Boxers can be provided for an additional $5 per item.
The customer can also provide the items that will be painted on. Therefore, making the the rate only 150/hr.